This monsoon it is raining offers for your business. Do you have an idea and are waiting to turn it into a reality? Wait no more, Innovfide for a limited time is offering new websites at just Rs 4,999. A website will give your business authenticity and set you apart from the rest. Studies indicate that 97% of consumers go online to find a business and 30% of consumers do not even consider a business without a website. 75% of B2B buyers rely on digital content before making any decision, and 62% will even finalise a purchase based on digital content alone. So, how can you cash on these trends and increase your business?
Get A Website Now
It doesn't matter that you have a small business or you are bootstrapped, a website is something that cannot be compromised. Even if you have a social media page, getting a website will take you to the next level. It is a myth that only e-commerce businesses need a website, every business needs a website to increase their business. If you think you are getting sufficient business without the website, imagine where will it go when you have a website.
If you are starting a new business now, there is absolutely no alternative to getting a website first. Without a website, you cannot even think about getting your first customer. Getting a website will let put you in the league of the goliaths in your industry. You can optimise your SEO and with sustained efforts, improve your search engine rankings. The return on investment for a website is high, and with Innovfide's amazing offer of Rs 4,999, you couldn't have asked for more.
9 Features For Rs 4,999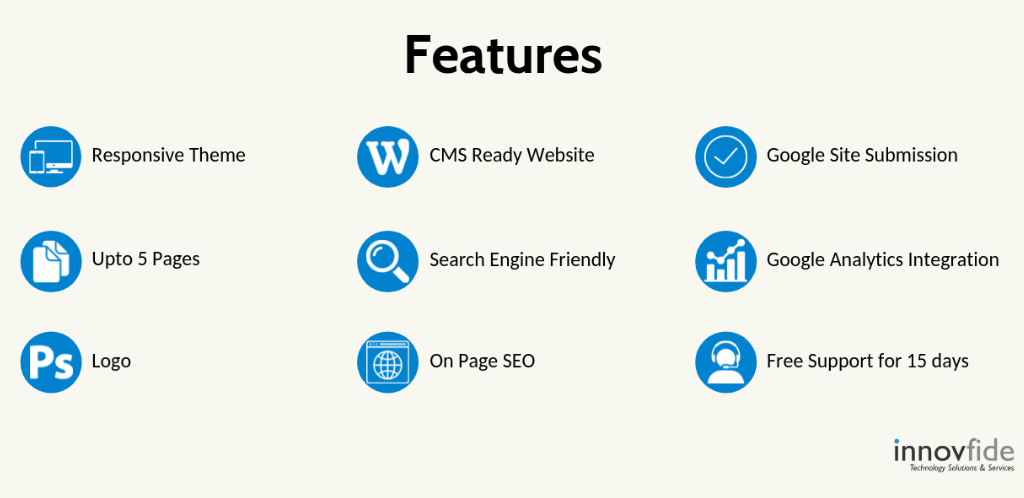 We understand website and its impact on your business. So, we do not bog you down with some random features and demand exorbitant charges. We give the most crucial 9 features required to get you started and ensure that you begin your journey. Down the road, we can always add more features as your business grows. With the focus on helping your business go online and build a long-term relationship with you, we deliver a website that will give a strong boost to your business.
Responsive Theme – Websites are no longer only viewed on desktops or laptops. Increasingly, mobiles and tablets are becoming a major medium of communication. So, you do not want to miss out on customers because your website is not responsive and looks all broken on the mobile. You will get a responsive theme that looks equally good on all the devices ensuring no customer is lost.
Up to 5 Informative Pages – Your customers will leave if they are unable to navigate through your website. Different pages with precise information will ensure that your website is easy to understand and your content is as clear as it can get.
A Logo – What are a company and a website without a logo? Well, we offer you a choice of a logo from 5 pre-set logo designs which should be more than sufficient to get you started. If you want a customised logo, we would be happy to make one for you outside this package.
CMS Ready – We don't believe in offering a website at competitive rates and then ensuring that you have to come to us for any minor change. We deliver a CMS ready website which allows you to modify your content as per your wish. You can also update blogs and carry out digital marketing activities.
Search Engine Friendly – What is the use of making a website if it does not gets ranked in search engines. We understand SEO and do not randomly create a website. We create a search engine friendly website that will help you rank higher.
On-Page SEO – After making the entire structure of the website SEO friendly, we also implement on-page SEO to further boost the rankings. From using appropriate title tags to using meta robots tag, we ensure that your website's on-page SEO boosts your ranking.
Google Site Submission – While Google and other search engines will crawl your website to list it, we go the extra mile to ensure that your website is listed by Google. Manually submitting the site is crucial for new websites to ensure that they are listed on all the search engines.
Google Analytics – We will ensure that your website is integrated with Google Analytics so that you can track the performance of your website. This will allow you to see what is working and what can be improved on your website. Get insights into your customer like never before.
15 Days Free Support – We do not deliver a website, get our payment and then refuse to help you in future. With Rs 4,999 package, you get a free 15 days support post-deployment. This means that any problem pertaining to your website will be solved by us. We take care of the technical aspects while you can focus on your business.
Amazed at the features of your new website? Prepare to be delighted with the price of Rs 4, 999. We believe in creating long-term relationships and do not believe in delivering a sub-standard product. Over the past many years, our transparency and professional approach has ensured our clients have complete faith in us. So, we would like to disclose that the Rs 4,999 package does not include hosting and domain which you can purchase from any online sellers or purchase from us at nominal additional cost, it is entirely up to you. Additionally, we offer three free revisions and the charges are for above-mentioned features only. Got a different requirement? No problem, we can offer customised packages too.
Still, have any queries? Feel free to call us on 8767484648 now. The Rs 4,999 package is available for a limited time only, hurry purchase it now.